We are delighted to announce our upcoming publication to the Pharma Industry & Academia.
Titled "Addressing Post Corona Challenges in Recruitment in Pharma Industry"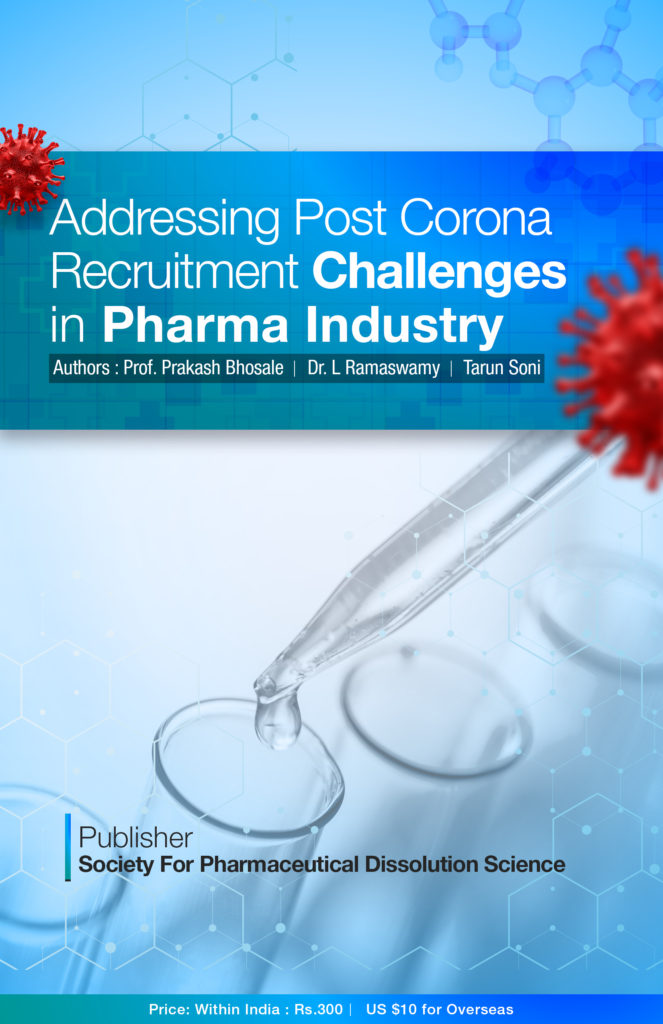 Authors:

Prof. Prakash Bhosale,

Dr. L Ramaswamy,

Tarun Soni
Publisher: Society For Pharmaceutical Dissolution Science
E Copy – Only Readable version – Single Licence ( Can't be forwarded or downloaded)
Price: Within India: Rs.300. US $ 10 for Overseas
Pre Publication Price: Rs.150 within India and is US $ 5 for overseas.
For All Attendees of Disso India 2020 – Online: Special Price on Pre-Publication Price i.e. Rs.100 (One Hundred only) within India and US $ 3 (US $ Three only)
Publishing Date: August 2020
Form of Book: Digital copy with an individual password and Non-transferable version.
Payment to be made online to SPDS account
Name: Society for Pharmaceutical Dissolution Science
Bank Name: Bank Of India
Account Number: 010 220 110000628
Branch: IGIDR Branch, Goregaon
Country: India
State: Maharashtra
City: Mumbai
Zip:400063
IFSC Code: BKID0000102
Then email your Name, Company/Institution, Mobile number, Email ID, Location, Payment & Transaction ID at:
Press@bbgebranding.com
book@spds.in
For more support on WhatsApp. Reach out to these numbers:
Sunil: +91 99842 38888
Digvijay: +91 99536 11253
Yogesh: +91 83559 79232
Rupesh: +91 98699 09779
Who can get benefit with this book:
1) All B.Pharm, M.Pharm, Ph.D. Students,  Post Doc Fellows, Faculties,  planning their careers.
2) All PharmacyColleges/Institute/Universities/ who are to strategize their placement Procedure and plans.
3) All Pharmaceutical companies/CRO's/CMO's/  who are deciding Post Covid-19  recruitment procedures & policies.  
4) All HR Dept &  line function managers in Pharma
5) All Parents of  Students who are studying for  B.Pharam/M.Pharm,  & Young entrants to the Pharma Industry.