Scientific Committee Members
Prof. Arvind Bansal
Professor and Head, Department of Pharmaceutics at
(NIPER), Punjab
Dr Arvind Kumar Bansal is currently Professor and Head, department of Pharmaceutics at National Institute of Pharmaceutical Education and Research (NIPER) – SAS Nagar, Punjab, India. He earned his M Pharm (Pharmaceutics) (1988) and Ph.D. (1993) from University of Delhi, India. Prof Bansal worked as Senior Scientist and Group Leader in JK Pharmaceuticals and Ranbaxy Research Laboratories, for 8 years. Therein he conceptualised, evolved formulation strategies, developed and transferred the technology to production shop floor, for NCEs and generic drug products. Prof Bansal joined NIPER in 2000 and has developed expertise in areas of pre-formulation and formulation development encompassing characterization and stabilization of the amorphous form, polymorphism, pseudo-polymorphism, particle engineering, screening salt forms, improvement of oral bioavailability and lyophilization. His research group works with the mission statement – 'developing science based industrially viable pharmaceutical technologies' and works closely with pharmaceutical industry to create opportunities for commercial exploitation of the products. Dr Bansal was conferred prestigious Fellow of American Association of Pharmaceutical Sciences in 2016. He is the only Indian working India being awarded this Fellow status. He has won prestigious awards like AAiPS Distinguished Educator and Researcher Award, Innocentive Award and OPPI Award. Prof Bansal's research group has completed more than 550 industry sponsored projects, granted 08 patents, filed 27 patents, and published 180 research articles and 26 review articles. He is an editorial board member of Journal of Excipients and Food Chemicals and Pharmaceutics. He is also an Advisor to the editorial board of Journal of Pharmaceutical Sciences and on Editorial Board of Molecular Pharmaceutics. Recently his lab has out-licensed a platform technology on "Nano crystalline solid dispersions – NanoCrySP.
Vijay is an accomplished Quality, Regulatory & Analytical professional with about 40 years of rich experience of working for highly reputed Indian & Multinational Pharma firms like Unichem, Ranbaxy, Sun Pharma , Lupin, IPCA, German Remedies  in  Sr positions like EVP, Director & GM- Quality & Regulatory. He has led from front for several successful regulatory inspections including US FDA, MHRA, WHO, EDQM, ANVISA, TGA both for Drug Products & API's.
Since 2013, he is running his own Pharma Consultancy called TRAC offering specialized services globally, for cGMP Training, Regulatory Filings, Auditing & Compliance. His current clients include reputed pharma companies based in India, China, Bangladesh, Turkey, US, Europe, Malaysia etc..  He is a frequent international trainer on several cGMP related topics.
He is the founder President of 'Society for Pharmaceutical Dissolution Science'. He is currently working on the board of Directors of ISPE-India. IDMA has conferred upon him an 'Outstanding Analyst Award 2011' for his contribution towards pharmaceutical analysis. He has also published articles on cGMP related topics like CAPA, OOS, QbD & cGMP in reputed journals/books. He is M.Sc. by Research in Organoanalytical Chemistry from Mumbai University. He has a good Microbiological background too
Professor Padma V. Devarajan
Head and Professor in Pharmacy, Department of Pharmaceutical Sciences and Technology,
Institute of Chemical Technology
Dr (Ms) Padma V. Devarajan is Professor in Pharmacy and ex-Head, Coordinator  M.Tech Pharmaceutical Biotechnology Department of Pharmaceutical Sciences and Technology and and Coordinator of the World bank TEQIP programme,  at the Institute of Chemical Technology, Mumbai, India. The Institute of Chemical Technology is the only ELITE University and Centre of Excellence in the state of Maharashtra in India.   Her research interests include colloidal carriers for targeted delivery in cancer and infectious diseases, Veterinary Drug delivery, Bioenhancement strategies, and Mucosal DDS as alternative to parenteral administration and QbD in drug development. She has over 100 publications and presentations in cited journals and  national/international conferences,  and five book chapters in the area of drug delivery and a  book on  "Targetted Drug Delivery- Concepts and Strategies " published by Springer.
She has filed over twenty patents international/ national, has seven patents granted and four patents licensed. Her research is funded through a number of Grants from the Government of and the industry including companies from Japan, Germany and USA. She is also  a consultant to the Pharma Industry.
Dr. (Mrs.) Mangal Nagarsenker
Adjunct Professor and Head,  Department of Pharmaceutics,
Bombay College of Pharmacy
Dr. (Mrs.) Mangal Nagarsenker is Retired Professor and Head, Department of Pharmaceutics, Bombay College of Pharmacy, Mumbai, India. She received her B.Pharm.Sc and  M.Pharm.Sc. at Institute of Chemical Technology, Mumbai and Ph.D (Tech) at Bombay College of Pharmacy, Mumbai.
Prof. Nagarsenker has more than 3 decades of research experience in the field of novel drug delivery systems. She has successfully guided many M.Pharm and Ph.D students and  has served as a reviewer for various national and international journals .
Prof. Nagarsenker's research interests are 1) polymeric and lipid nanocarriers for improved drug delivery, 2) Drug nanocrystals for improved oral and topical delivery, 3) pulmonary drug delivery and 4) synthesis of novel ligands for targeted drug delivery
Email: mangal.nagarsenker@gmail.com
Dr. (Mrs.) Abha Doshi
Principal,
MET Institute of Pharmacy. Bandra(w)
Dr. Abha Doshi has completed her B.Pharm and M. Pharm from HS Gour university, Sagar and completed her PhD from C.U Shah college of Pharmacy, SNDT  Womens University.
She has presented her papers in various international and national conferences. She also has many publications in national and International journals. Dr. abha is guiding many M.Pharm students in their research work.
Email: abhad_iop@met.edu
Dr. (Mrs.) Mala Menon
Professor-Dept of Pharmaceutics,
Bombay College of Pharmacy
Dr (Mrs) Mala D.Menon is the Professor of Pharmaceutics, Bombay College of Pharmacy, Mumbai She joined BCP way back in 1987 after working with pharma Industry for 2 years
Her research areas are delivery systems, Nasal & Pulmonary Drug Delivery systems, Probiotics, Novel vaccine delivery approaches, Enzyme delivery systems, Dissolution rate test evaluations.
She had handled many research projects from Govt.- from AICTE, UGC, BRNS, Mumbai University ; and Industry sponsored from  Yash Pharma, US Vitamins, Mother Dairy, Hansen Probiotics,  Glenmark,  Famy Health Care, Abbott India, Getz Pharma.
Email: maladmbcp@gmail.com
Dr. Krishnapriya Mohanraj – Executive Member
Prof. Krishnapriya Mohanraj is Professor and Head, Department of Pharmaceutical Analysis, at Bombay College of Pharmacy
She completed her M Pharm and PhD (Tech) in Pharmaceutical Chemistry at Institute of Chemical Technology (formerly UDCT), Mumbai.
She was selected for the UKIERI Indo UK Staff Exchange Program at Kingston University by the British Council (2011-12 award).
Her expertise includes Computer aided drug design, synthesis and pharmacological evaluation, Enzymatic resolution, Bioassay guided fractionation of herbal extracts, Chiral chromatography, Bioanalysis, In vitro analysis, LC-MS/MS studies, Structural Elucidation, Impurity profiling and development of stability indicating methods.
She has undertaken many research projects and industrial collaborations
Email: krishnapriyamohanraj@gmail.com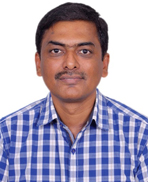 Kalyan is a doctorate in Chemistry from University of Madras with 25+ years of experience in Analytical Research.  He is currently working with Dr. Reddy's as Senior Director– AR&D heading the AR&D of Oral Solid Dosages and Integrated APIs. Kalyan is an expert in Method design, structure elucidation by NMR & Mass spectroscopy and Solid state characterization. He has extensive experience in handling Complex Generic APIs and dosage forms for establishing sameness using advance analytical techniques. He has got publications in national and international journals on separation and characterization of impurities in drugs and has delivered talks in a variety of topics on Analytical Development in various conferences.
Dr. BM Rao possess a Ph.D. degree in Chemistry and has about 27 years of work experience in pharmaceutical Analytical R&D and Quality Control functions in reputed organizations includes Janssen (pharmaceutical companies of Johnson & Johnson, Novartis, Zydus Cadila, Nicholas Piramal, and Dr. Reddy's. He has a sound practical knowledge and thorough understanding of "Data Integrity", its importance in cGMP Analytical laboratories. He has exposure to various regulatory audits includes USFDA, EMEA, TGA, Health Canada etc. and also worked with reputed International consultants in QC remediation.   He has about 75 scientific publications in reputed national and international journals and successfully guided seven part-time Ph.D. candidates.
During his professional career he has been recognized for his contributions at work and won awards including Chairman's Excellence Award from Dr. Reddy's Laboratories (Feb, 2018), "Standards of Leadership" from J&J at Janssen, Mumbai site (year 2010) and Best New Leader Award at SAI Life Sciences Limited (year 2013). He has extensively travelled to USA, Mexico, Europe, Germany, Belgium, Singapore, Brazil, and Malaysia and interacted with several big and emerging biotech pharmaceutical analytical & quality experts.
At present, Dr. BM Rao is working as Vice President and Head of Analytical Science & Technology (ASAT) & Corporate Quality control at Dr. Reddy's Laboratories providing technical leadership to the Analytical method validations/transfers and Quality Control labs of APIs and Formulations.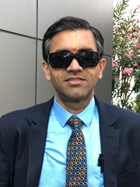 Dr. Santhanakrishnan Srinivasan is an accomplished research professional in the field of Pharmaceutics and drug development. He brings with himself wealth of knowledge and expertise in the field of sterile drug product development and also in the process development and in-vitro dissolution method development of modified release, delayed release oral formulations and long acting parenteral and ophthalmic formulations. 
Dr. Srinivasan holds a Ph.D in Chemical Engineering from University of Missouri – Rolla. In his decade long industrial career, he has held R&D leadership position at Dr. Reddy's Laboratories and Amneal Pharmaceuticals. 
Email: santhanas@amneal.com